With "that time of year" and all the things that come with it, hours of the day are in short supply. If you're like me, having some sort of fall back plan for easy meals is a must. For me, it's important that quick meals be easy, kid friendly, and not chock full of carbs. Hopefully these help you out on your busy days!
One Pot Chicken and Broccoli Casserole
This is a nice twist on a classic. Sure to please kids an adults alike, this one pot wonder is an easy breezy dinner.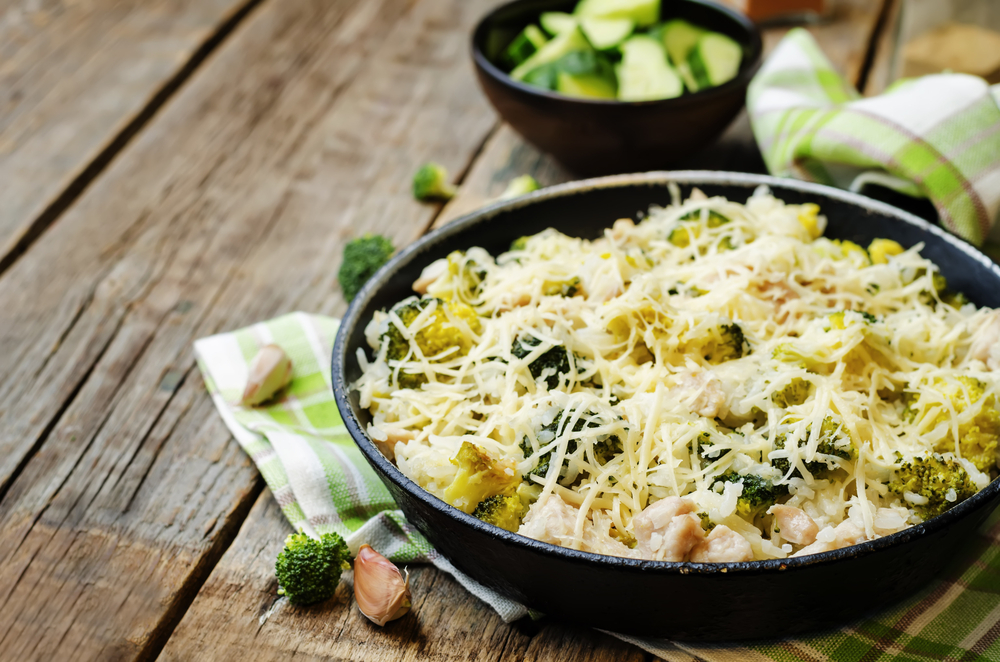 Ingredients:
1 Tbsp. olive oil
1 small onion, finely chopped
2 chicken breasts, cut into cubes
1/4 tsp. salt
1/4 tsp. pepper
4 cloves minced garlic
3/4 cup uncooked rice
10 oz. cream of chicken soup
3 c. chicken broth
2 c. broccoli floret1
1 c. shredded parmesan cheese
1 Tbsp. fresh parsley
Process: Heat the olive oil in your skillet. Once it's to temp, add the onion and cubed chicken. Cook over medium heat until the chicken starts to brown, then season with salt and pepper. Stir in the garlic and cook for about 30 seconds so that the garlic gets aromatic. Add in the rice, soup, and broth and allow to simmer until rice is cooked. Stir occasionally. This should take about 15 minutes or so. Add in the broccoli florets and half the cheese, allow to cook for a few more minutes until the broccoli starts to soften. Sprinkle the top with the remaining cheese and place the skillet under a broiler for a few minutes until brown. Garnish and serve!
French Bread Pizza
In a total rush? This french bread pizza has your back!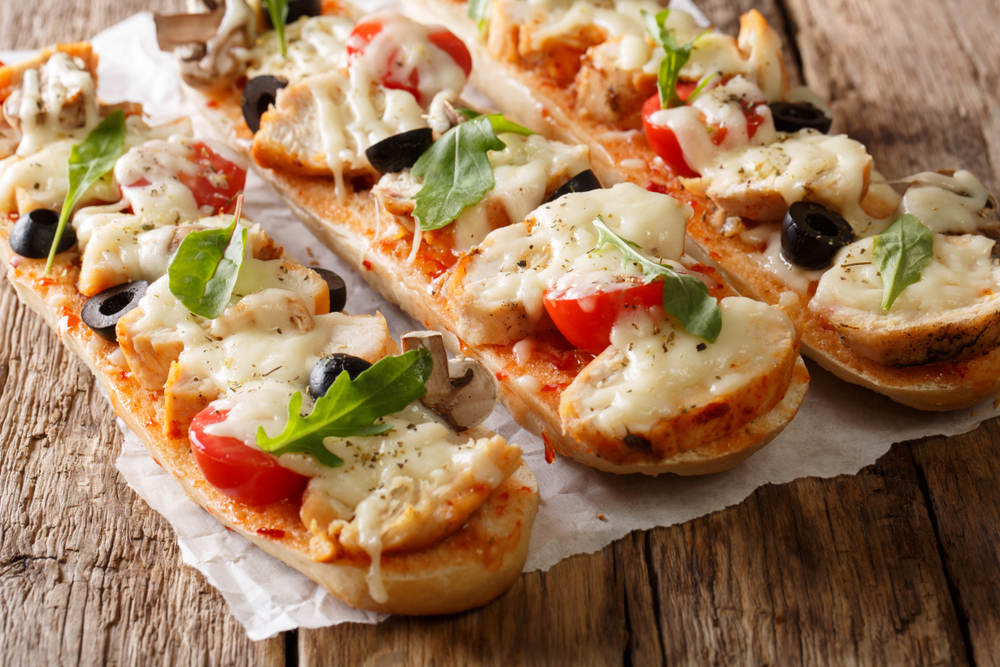 Ingredients:
1 loaf French bread
1 jar pizza sauce
8 oz Mozzarella cheese (shredded)
Desired toppings: olives, pepperoni, green peppers, etc.
Process: Heat your oven up to 400F. Slice up your French bread lengthwise if it's not already sliced, then place them on a parchment covered baking sheet. Spread your pizza sauce evenly over the bread and divide the cheese up. You can absolutely use cheese other than Mozzarella. My family also loves the Mexican blend cheese. Add your toppings, or better yet, let your kids top their own section of the bread. Then toss that baby into the oven for about 15 minutes. The bread should be crisp and the cheesy nice and bubbly. Cut into your desired pieces and serve!
Cheesy Beef and Pasta Skillet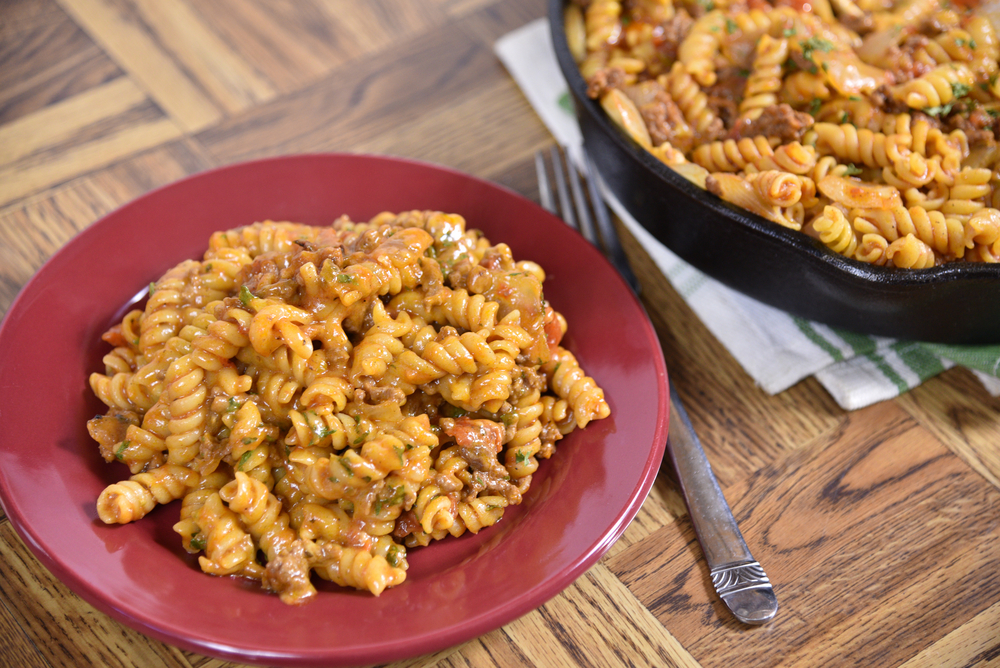 Do you miss the days of Hamburger Helper? I do. This is a pretty awesome substitute using things you should have on hand. Plus I'd wager it's a little bit healthier.
Ingredients:
1 Tbsp. olive oil
1 c. finely chopped yellow onion
4 cloves minced garlic
1 lb. lean ground beef
28 oz. can crushed tomatoes
14.5 oz can diced tomatoes
1/2 tsp. dried oregano
1/2 tsp. dried basil
salt and pepper to taste
12 oz. whole-wheat pasta
1 c. grated cheddar cheese
1 1/2 c. grated Mozzarella cheese, divided
1/2 c. grated Parmesan cheese
Process: Start by preheating your oven to 400F. Heat the olive in a large skillet (like this one) over medium heat. Add your onion and cook for about 4 minutes before adding the garlic. Stir for about another minute or so before adding the ground beef. Go ahead and crumble that beef up until it's browned and in small pieces. Next up add the tomatoes and seasonings and allow to simmer for about 10 minutes. Last, add the pasta and water before covering and upping the heat until you've got a good simmer. Cook, stirring often, until the pasta is al dente which should take about 13-15 minutes. Remove the skillet from head and mix in your cheese. Bake uncovered until the cheese is melted and gooey, about 10 minutes.
Parmesan-Crusted Chicken Tenders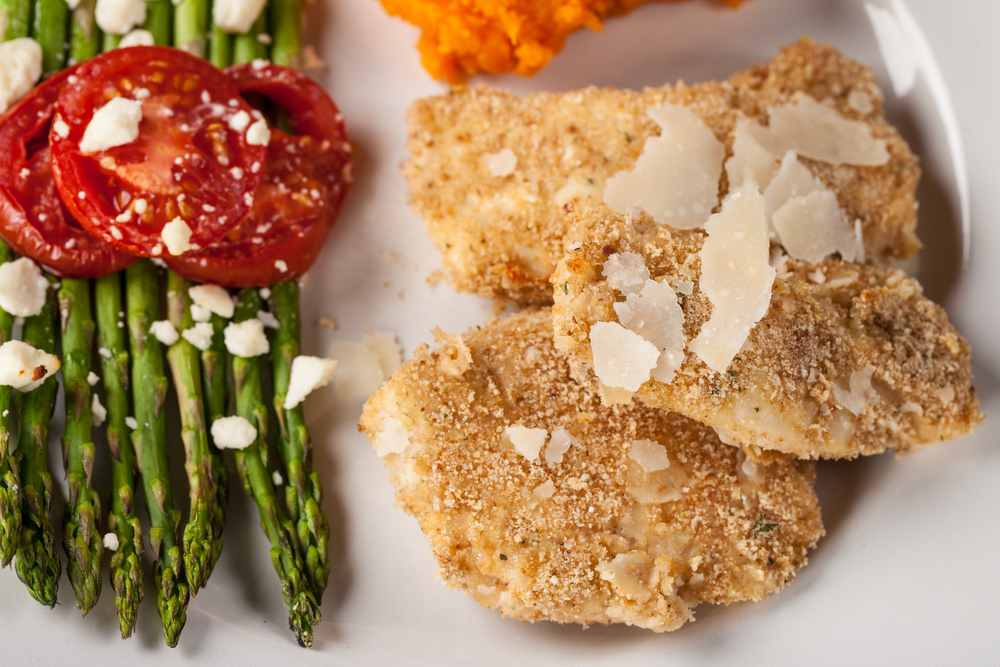 Last up we have a week night classic! These chicken tenders are great as a main dish dipped in sause or just plated with your sides. I can guarantee these will fly off the plate.
Ingredients
1/3 c. whole-wheat flour
1/2 tsp. salt
1/4 tsp. pepper
1/4 tsp. paprika
2 eggs
1 Tbsp. water
1 1/2 c. Panko crumbs
1 1/2 c. grated Parmesan
1 1/2 lbs. chicken tenders
Process: Start by heating up your oven to 425F and prepping a baking sheet with parchment paper. Next up put your Panko crumbs and parm cheese in a small dish, in a second dish put the egg and water and whisk that baby up! Lastly, whisk the whole-wheat flour, salt, pepper, and paprika together. These three dishes form the base of your chicken tenders. Start by first trimming your tenders to your desired size (I like smaller for the littles). Then go ahead and start your assembly by dipping your tenders in the flour, then the egg, then the Panko so that everything is fully coated. Then place on your baking sheet. Bake the tenders for 15-18 minutes until they are cooked through and golden. Serve with your favorite side dish!
And there you have it! Which recipes are your favorite when you're in a rush?
Happy Cooking!