Sweet Potato Casserole Pancakes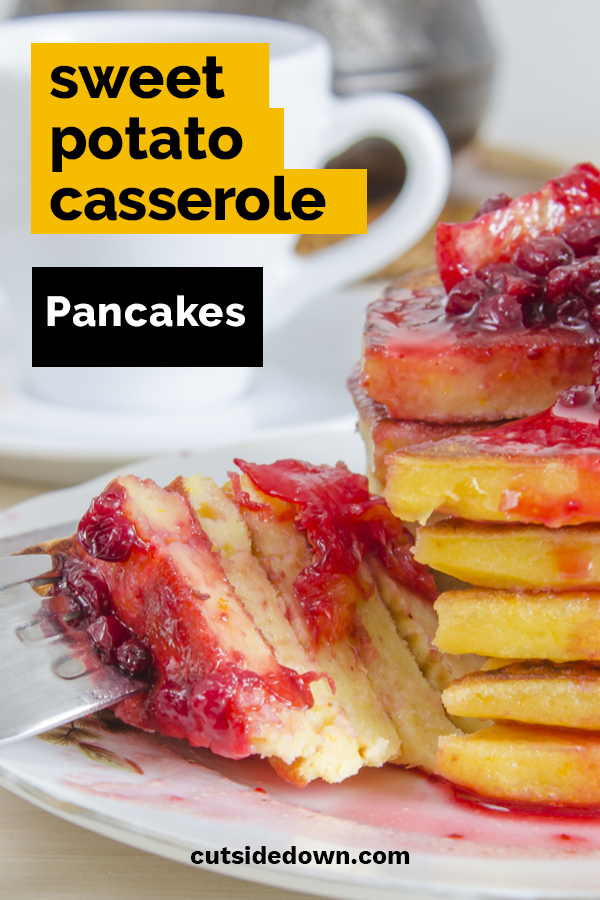 The holidays are just around the corner, can you believe it? Our local Walmart is already putting out the Halloween candy. It's crazy! I figured since the holidays will be here before we know it, it might be a good idea to get a jump start on some holiday-themed recipes.
The best part about this particular recipe is that it utilizes leftovers in a new and delicious manner. Let's be honest, we all spend a day slaving away for our holiday feast, and it's over in about 5 minutes. Then you spend an hour digesting while putting away all the leftovers. Sure, you could create the ultimate leftover sandwich, but there are some dishes that just don't taste the same re-heated. Enter this recipe for Sweet Potato Casserole Pancakes. It's perfect the morning after your festive dinner!
The one must-have for this recipe is a good griddle. I don't mind using pans for pancakes, but having a good griddle is just so much better! You can cook more pancakes at a time, get more even heat, and clean up is a piece of cake. Grab a great griddle here.
Recipe: Sweet Potato Casserole Pancakes
Ingredients:
1/2 c. maple syrup
3 Tbsp. leftover cranberry sauce
1 1/2 c. milk
1 c. leftover sweet potato casserole
1/4 c. melted butter
2 eggs
1/2 tsp. vanilla extract
1 3/4 c. flour
2 Tbsp. brown sugar
1 Tbsp. baking powder
1/2 tsp. ground cinnamon
1/2 tsp. salt
toasted pecans (optional)
Process:
Begin by mixing together the maple syrup and leftover cranberry sauce. If your sauce has whole cranberries, you can use an immersion blender (like this one) to get the job done. Next, in a medium bowl whisk together the milk, sweet potato casserole (don't worry about the toppings, just toss them in too!), melted butter, and eggs until completely combined. Then in a separate bowl, mix the flour, brown sugar, baking powder, cinnamon, and salt until combined.
Last, gently fold the dry ingredients into the sweet potato mixture until everything is just combined. Don't over-mix!
To cook the pancakes, heat your griddle up to about 350F and lightly grease with butter or non-stick spray. Then pour batter onto the griddle, 1/4 c. of the mix at a time. Allow the pancakes to bubble and the edges to dry out a little before flipping. Then allow the pancakes to cook another minute or two before removing from the griddle and serving with syrup mixture and toasted pecans. Enjoy!
So the next time you are faced with a mountain of leftovers, don't despair! Try turning them into something new and incredible. You just might find your new favorite recipe. Happy Baking!
---
---