Keto Is The Way to Go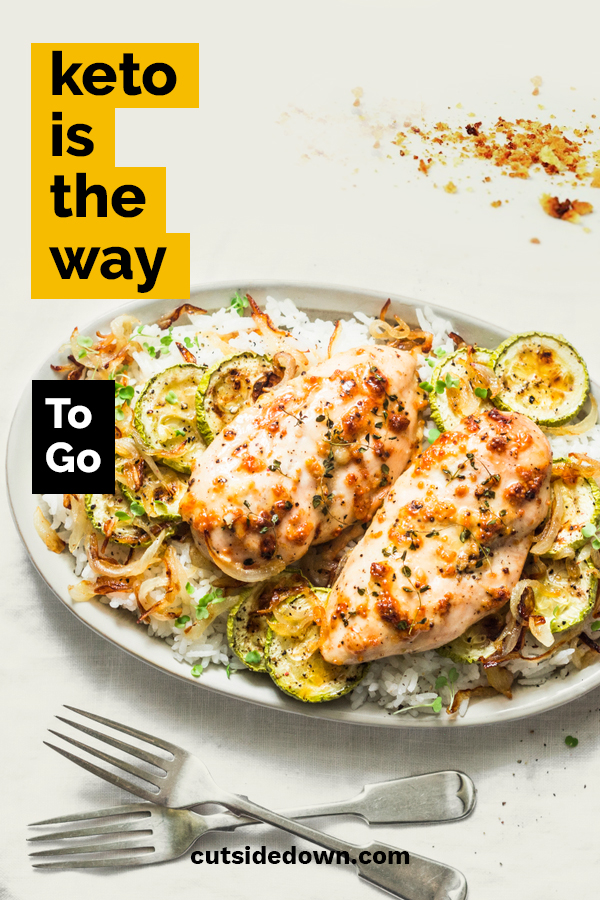 Let's be honest, in the world of fad diets, there's a pretty wide range of possibilities. You can do Paleo, Whole30, WeightWatchers, etc. All of them involve a significant change in lifestyle in order to get their promised results. Keto really isn't all that different, but I'll be honest, it has produced more and dare I say, better results than all of them. So, what is Keto?
Keto is short for Ketosis, which is a state of metabolic processing where your body begins converting fats known as keytones (see how it get's its name?) and uses them as its main source of energy. Pretty handy, huh? This brings us to the next question, how do you get into ketosis.
Step 1: Limit your carbs. And I mean limit. The best way to get into ketosis and stay there is to consume as little carbs as possible, anywhere from 20-50 a day.
Step 2: Add in some coconut oil to your diet. It will assist with the transition of ketones in your liver. Start small and add it in so you don't make yourself sick.
Step 3: Exercise! Believe it or not, but exercising while on the Keto diet will help shed the weight faster.
Step 4: Eat healthy fats. You want your diet to consist of at least 60% of calories from fat that come from plant and animal sources.
Step 5: Keep it high protein, but don't over do it. This is a great conversation to have with your doctor. If you overdo the protein, it can keep you from losing weight. But not eating enough protein can result in muscle mass loss.
So here are some recipes to get you started on your best Keto self!
Zucchini Crusted Pizza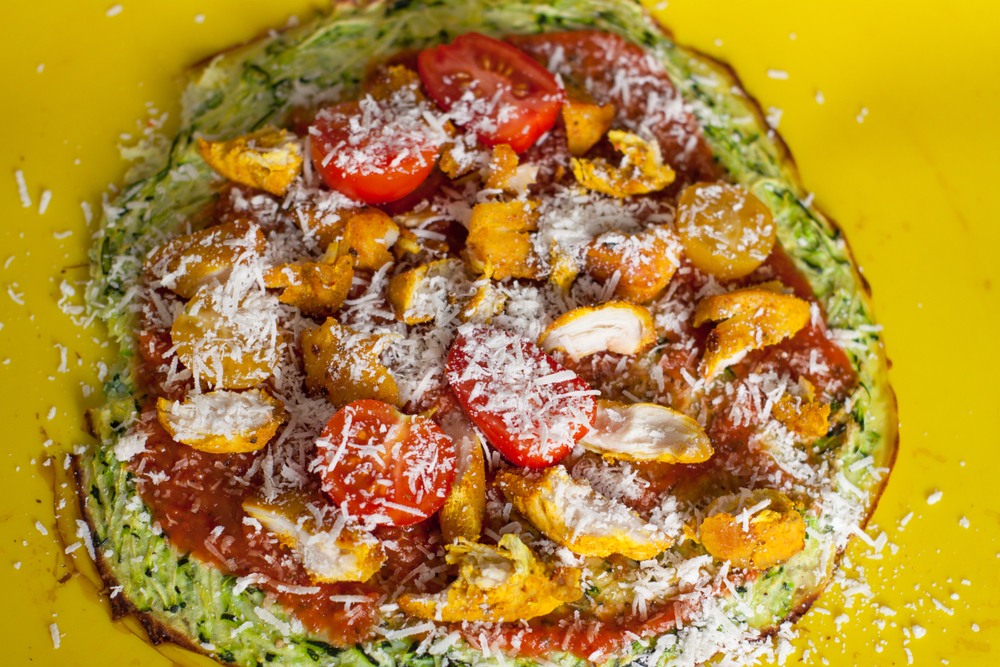 Ingredients
2 large eggs, lightly beaten
2 c. shredded zucchini squeezed dry
1/2 c. shredded mozzarella
1/2 c. grated Parmesan cheese
1/4 c. flour
1 Tbsp. olive oil
1 Tbsp. minced basil
1 tsp. minced thyme
Toppings as desired (think protein-turkey pepperoni, mozzarella cheese, veggies)
Process: Heat your oven to 450F. In a large bowl, mix all ingredients together until incorporated. On a baking sheet that is lined with parchment paper, shape your dough into a circle. Pop that baby into the oven for about 15 minutes or until it's light golden brown. Reduce your heat to 400F and add your toppings. Bake until the cheese is melted, which should take about 10-12 more minutes. Serve and enjoy!
Creamy Dijon Chicken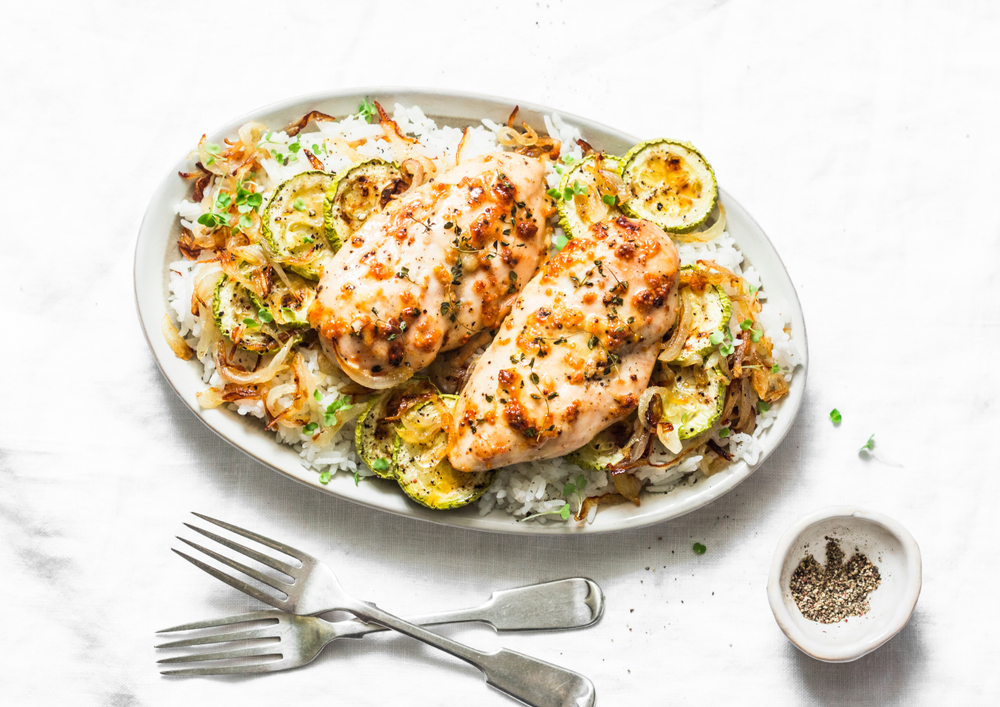 Ingredients:
1/2 c. half and half
1/4 c. Dijon mustard
1 Tbsp. brown sugar
4 boneless chicken breast halves
1/4 tsp. salt
1/4 tsp. pepper
2 tsp. olive oil
2 tsp. butter
1 small onion thinly sliced
Process: In a medium bowl, whisk the cream, mustard, and brown sugar together until creamy. Take your chicken breasts and pound them with a meat mallet (like this one) until they are an even size and thickness. Salt and pepper to taste. In a large skillet, heat your oil and butter on medium-high and brown your chicken on both sides. Lower the heat to medium and add the onion and cream mixture. Bring everything to a boil before reducing the heat so that you can simmer, covered, until chicken is done. This should take about 10-12 minutes. Serve with veggies!
Asparagus & Cheese Frittata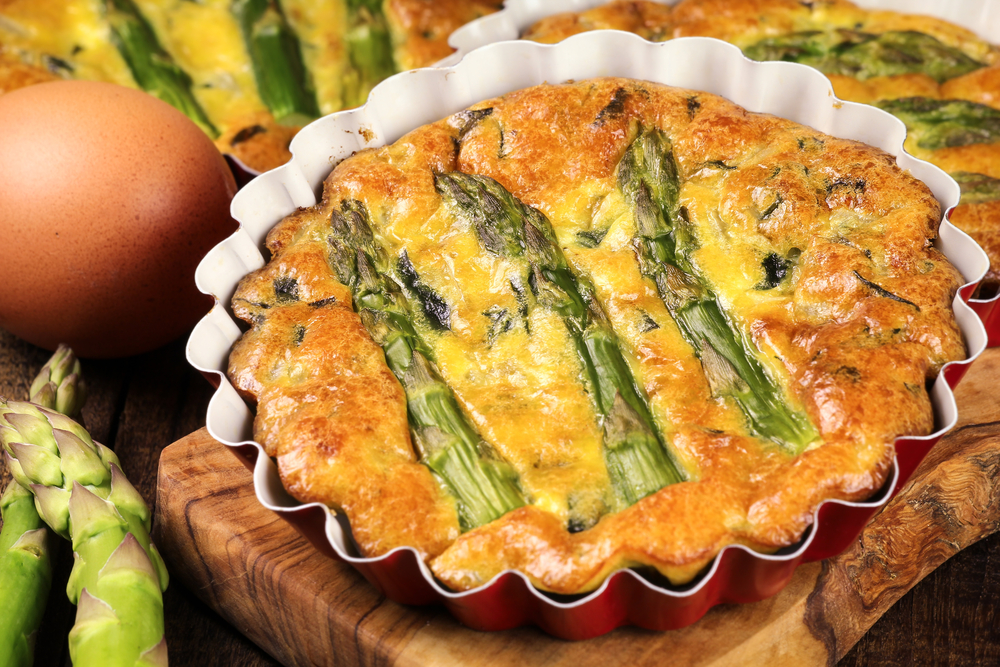 Ingredients
5 eggs
1/2 c. Romano cheese
1/2 c. vegetable broth
1/4 tsp. salt
1/4 tsp. pepper
2 slices Italian bread, cubed
2 Tbsp. olive oil
2 c. fresh asparagus
1 medium onion, minced
1/2 c. shredded Gruyere cheese
Process: Warm up your broiler. In a bowl, whisk the eggs, Romano cheese, vegetable broth, salt, and pepper together until well blended. Stir in the bread cubes. Using an 8-inch skillet (like this one) heat the olive oil over medium-high heat. Toss in your asparagus and onion and cook for about 10 minutes so that your onion is tender. Lower your heat to medium-low and pour in the egg mixture. Cook for about 4-6 minutes so that it's nearly set. Sprinkle the Gruyere cheese on top, then toss that puppy in the oven! Broil for about 5 minutes or until the cheese is melted and the eggs are set. Let sit for at least 5 minutes, then cut and serve!
And there you have it! Go get your Keto on.
---
---