Healthy Cauliflower Rice Recipes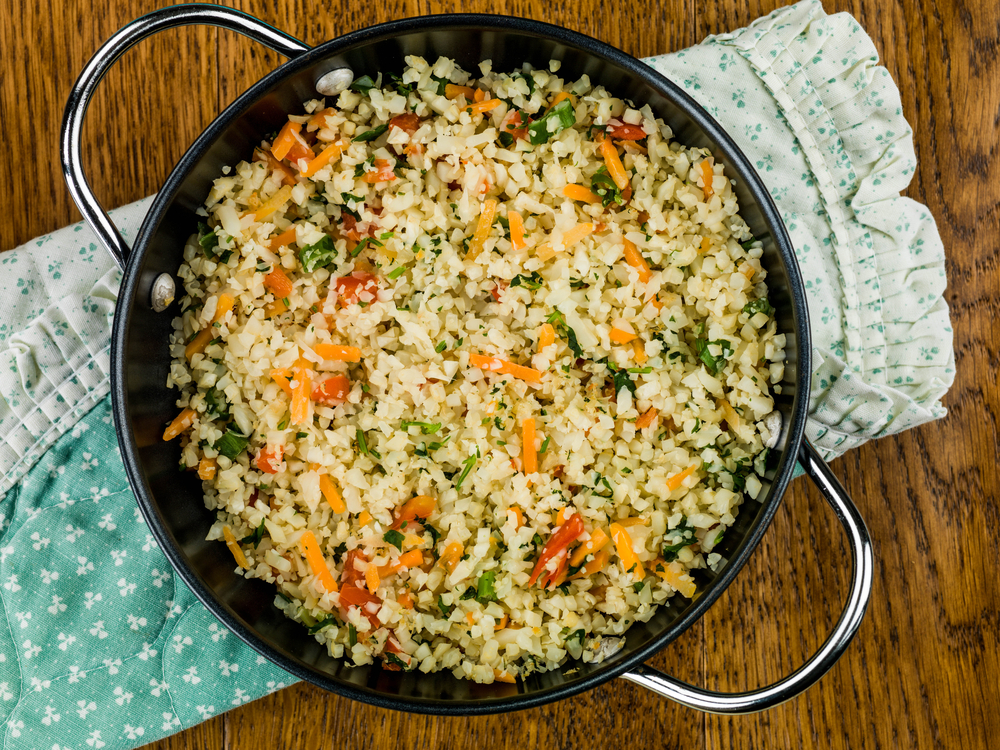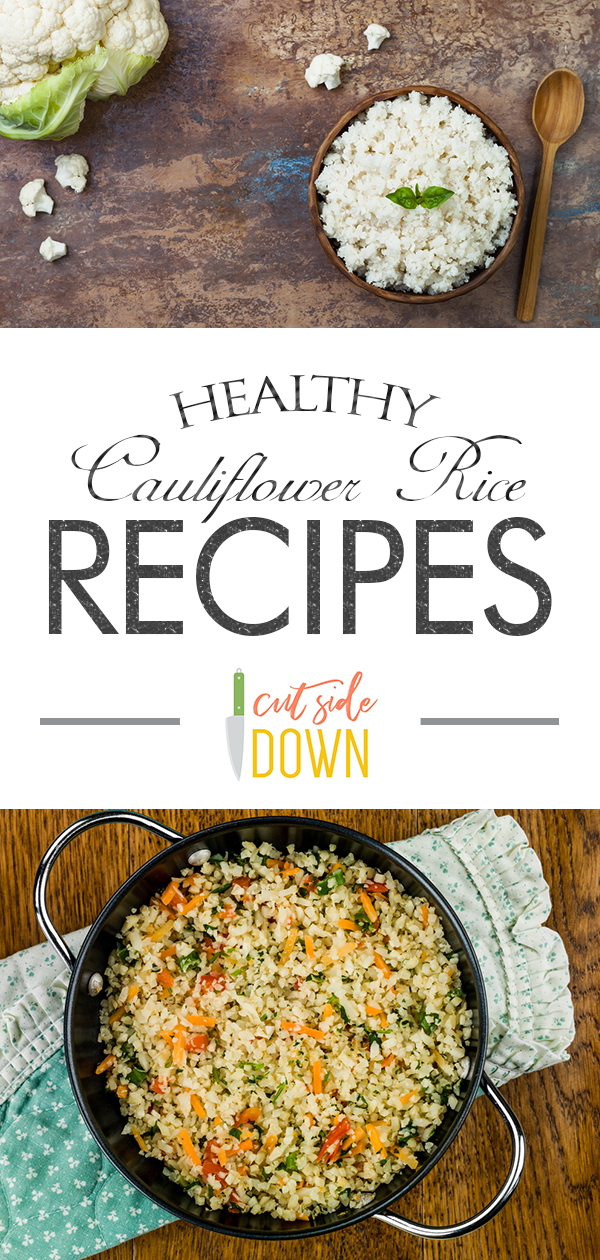 Okay, so this has been a trend as of late, and for a very good reason! Check out some of my favorite healthy cauliflower rice recipes. Cauliflower rice, when done correctly, can be a really great replacement for rice. It's got the same basic texture, but lacks the carbohydrates and adds in some vitamins and minerals. It cooks faster than rice and is less filling, so it's a great way to really showcase your main dish. There are two ways to "rice" cauliflower. The first method is to use a box grater (like this one) and the second is to use a food processor (like this one). I like the food processor because it's less work on my end, but I've used both and they both work well.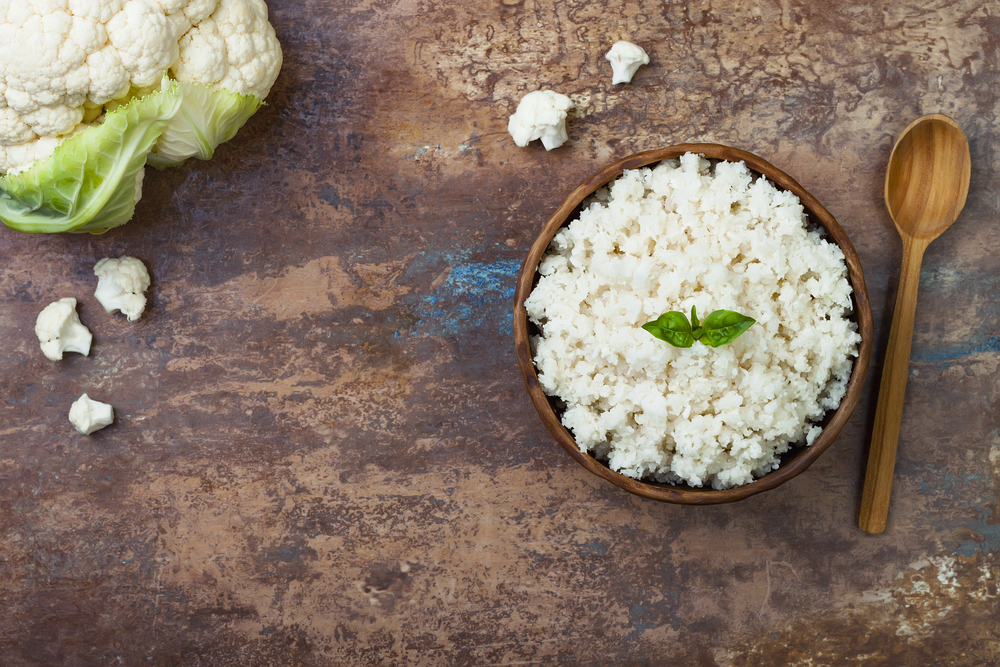 Here is a step-by-step tutorial on how to make cauliflower rice:
Step 1: Wash and dry your cauliflower head, and remove all the green parts.
Step 2: Grate your cauliflower! Either use the medium side of a box grater or your food processor and grate until you have cauliflower the size of rice.
Step 3: Transfer your rice onto a paper towel or clean kitchen cloth and squeeze out the moisture from the cauliflower.
Step 4: Either refrigerate for up to 5 days or freeze for up to 3 months.
Once you've got your cauliflower riced, you're ready to start cooking with it! It makes a lovely base for most recipes.
Healthy Cauliflower Rice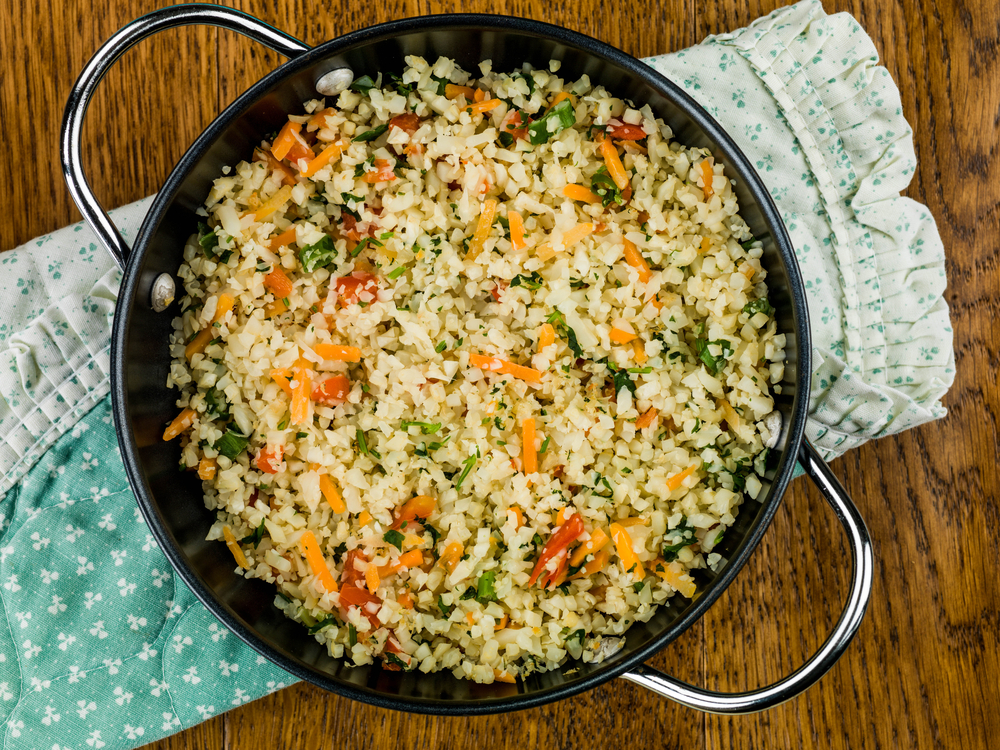 Ingredients:
5 c. riced cauliflower
2 Tbsp soy sauce
1 Tbsp sesame oil
1 Tbsp grated ginger
1/4 tsp white pepper
2 Tbsp vegetable oil, divided
2 large eggs, beaten
2 cloves garlic, minced
1 onion, diced
6 oz. broccoli florets, chopped
1 cloves garlic, minced
1 onion, diced
6 oz. broccoli florets, chopped
2 carrots, peeled and grated
1/2 c frozen corn
1/2 c frozen peas
2 green onions, sliced
1/2 tsp sesame seeds
Process: In a small bowl, mix soy sauce, sesame oil, ginger, and white pepper. You will use this later. Then heat 1 Tbsp vegetable oil in a skillet over medium heat. Cook your eggs until cooked through, then set them aside as well. Heat the last tablespoon of oil in a wok (like this one) over medium high heat. Add the garlic and onion and cook until the onions have become transparent which should take 3-4 minutes. Add in the broccoli, carrots, corn, and peas and cook until they are tender. Mix in the cauliflower, eggs, green onions, and sauce mixture. Stir it constantly until cauliflower is tender, which should take about another 3-4 minutes. Garnish with sesame seeds and serve!
Broccoli Cauliflower Rice Chicken Casserole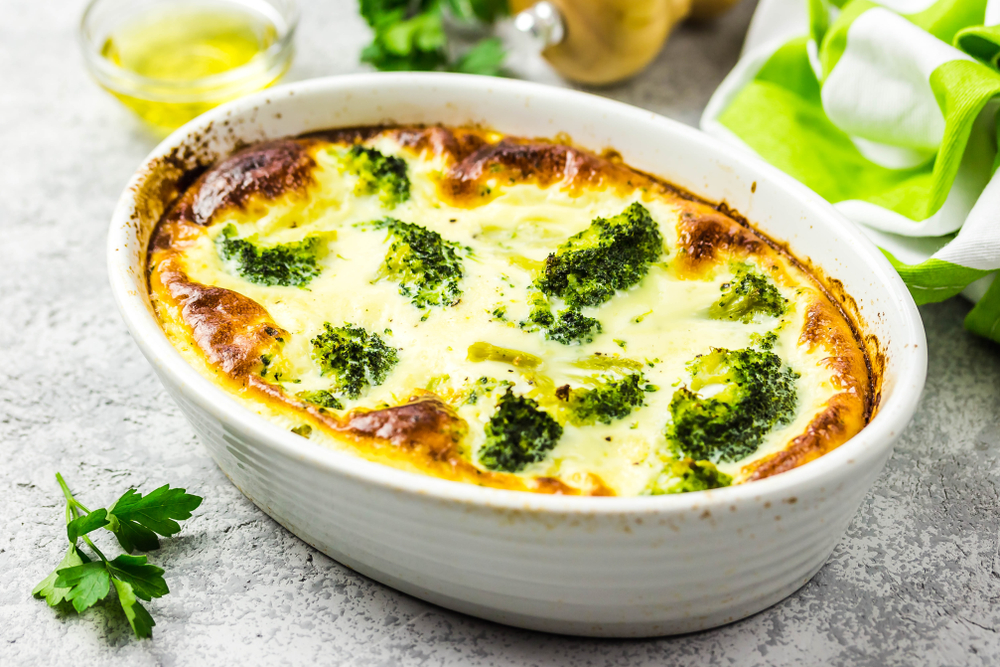 Ingredients:
2 lb. skinless, boneless chicken breasts
1 Tbsp olive oil
3 cups (or 1 head) cauliflower rice
1 bag frozen broccoli (16 oz)
2 eggs, whisked
3 c. shredded mozzarella cheese
2 tsp sea salt
2 tsp garlic powder
2 tsp onion powder
2 Tbsp. melted butter
1 c. shredded Italian blend cheese
Process: Heat oven to 400F and spray a large baking dish with cooking spray. Slice chicken in half and season with salt and pepper. Place on a baking sheet and bake for twenty minutes. While the chicken is cooking, heat up the broccoli and cauliflower rice. Make sure to dry it thoroughly. When chicken is cooked through, cut into smaller pieces. Mix everything together, saving a little of the Italian cheese to sprinkle on top, and put in the casserole dish. Bake for 50 minutes or until the cheese on top is melted and slightly brown. Serve warm.
Cauliflower Crust Pizza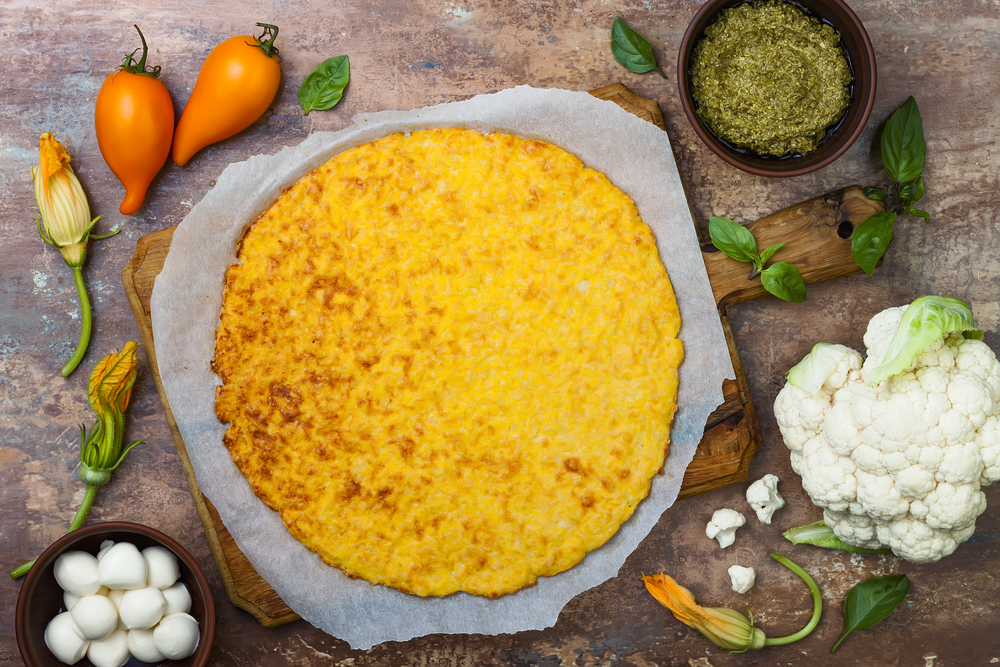 Ingredients:
3 c. cauliflower rice
1 egg, beaten
1/2 c. shredded mozzarella cheese
1/2 tsp sea salt
1/4 tsp pepper
Process: Preheat your oven to 450F. Line your baking sheet with parchment paper or a silpat baking mat. Grease with a little olive oil or cooking spray. Microwave the cauliflower rice on high for about 8 minutes, or until it's cooked through. Dry well otherwise you'll end up with soggy pizza crust. Mix the rice with egg, cheese, and seasonings. Press the mix onto the baking sheet and shape into three pizzas. Cook for 12 minutes, remove from the oven and top quickly with your chosen toppings. Bake again for 12 minutes and serve hot!
There you have it! Happy baking!
---
---