Scrumptious Scalloped Potato Recipes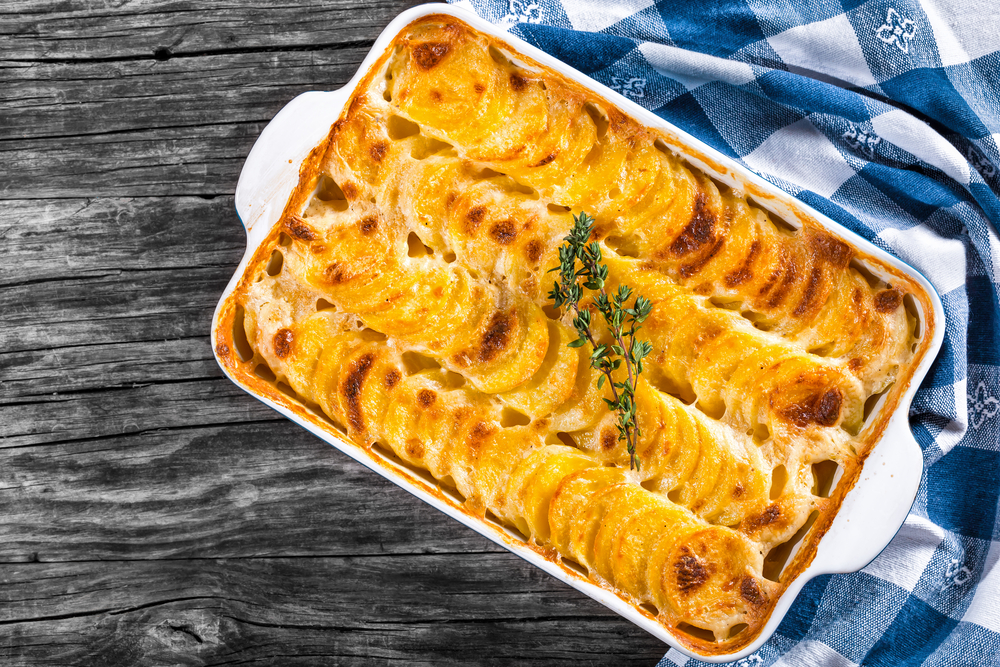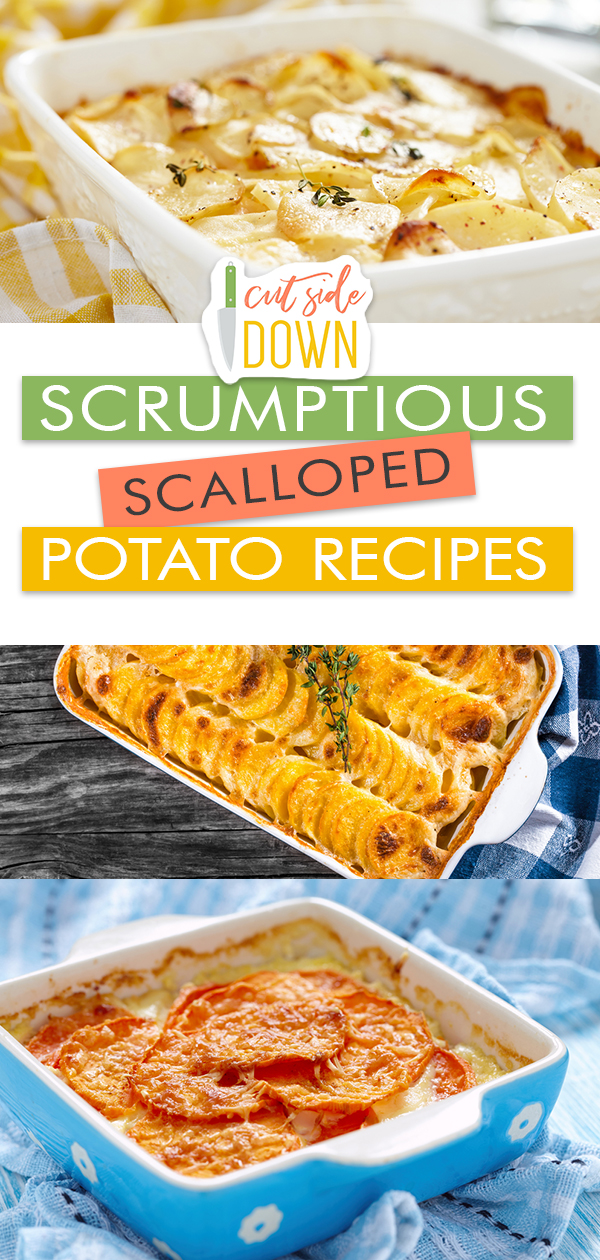 Okay, let's talk scalloped potato recipes. These are perfect comfort food, and when done correctly, come out creamy, cheesy, and scrumptious! The first step to a good scalloped potato recipe is to make sure you've got your potatoes cut to the right thickness. Too thin and they will cook too fast and fall apart. Too thick and they will take too long to cook and burn your sauce. I find that using something like this is a huge time saver, especially since my skills with cutting anything uniformly bites. Aim for about 1/4″ thick and you'll be good. Now, onto the scrumptious scalloped potato recipes!
Classic Cheesy Scalloped Potato Recipe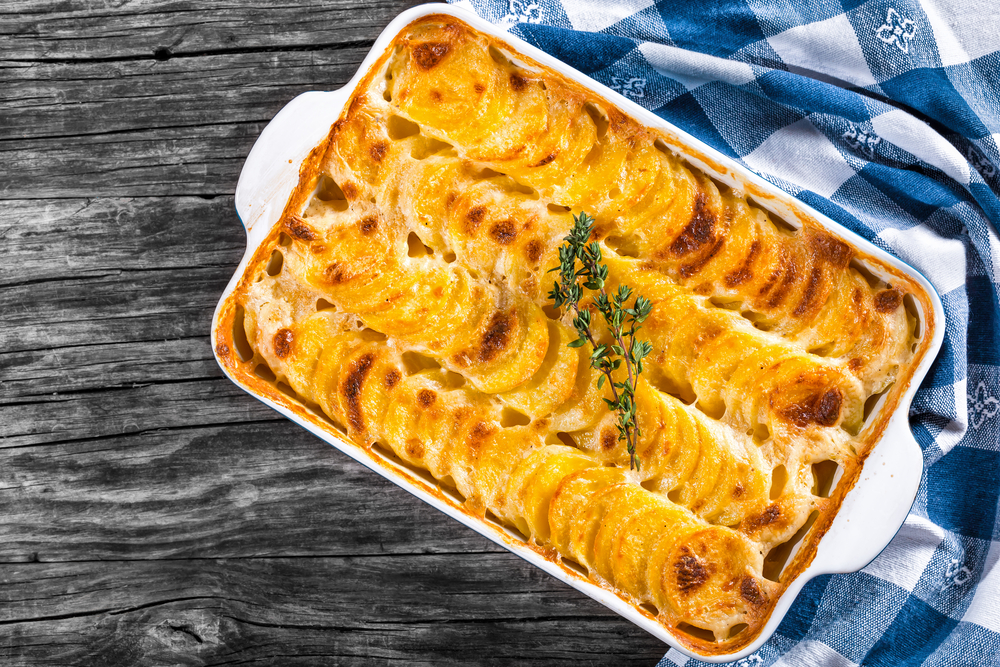 Ingredients:
3 Tbsp butter
1 small white onion (yellow works too)
4 garlic cloves, minced
1/4 c. flour
1 cup chicken stock
2 cups milk
1 1/12 tsp salt
1/2 tsp pepper
2 tsp thyme leaves
4 lb. Yukon Gold potatoes (these make for the creamiest scalloped potatoes)
2 cups grated sharp cheddar cheese (if you want more, add it!)
1/2 cup grated Parmesan cheese
Process: Preheat your oven to 400 F. Grease a 9×13 in. baking dish (like this one) with cooking spray. Wash and slice your potatoes. Set aside. In a large pan, melt your butter and add your onion. Saute for 4-5 minutes or until they are clear. Add garlic and saute for another minute or two. Now, you're going to make your roux. Slowly stir in the flour until it's evenly combined and cook for one minute. Next, add your stock in a little at a time and whisk until it's well combined. Continue cooking for one to two more minutes until the sauce starts to simmer around the edges. DON'T BOIL. Remove from heat and set aside. Lay half your potatoes on the bottom of your baking dish. Top with half of the cream sauce and evenly sprinkle 1 cup of cheese and all the parm cheese. Top with the remaining potatoes, remainder of the cream sauce and cheddar cheese. Cover and bake for 30 minutes, then remove the foil and bake uncovered for 25-30 minutes or until the potatoes are cooked through.
Creamy Scalloped Potato Recipe (with or without cheese)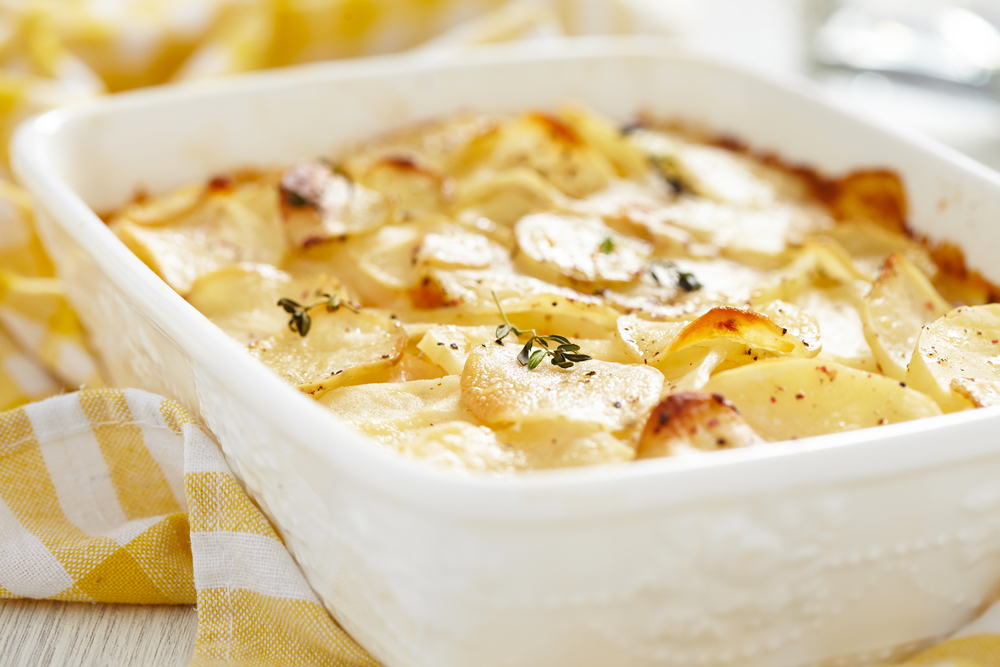 Ingredients:
6 potatoes (russet or red)
1/4 c. butter
1 onion, finely chopped
1/4 c. flour
2 c. milk, warm
1/4 tsp. salt
1/4 tsp. pepper
1/2 c. cheddar cheese, grated (optional)
1/4 c. cheddar cheese, grated(optional)
Process: Preheat oven to 350F and spray a 9×13 with cooking spray. Peel and slice your potatoes about 1/4″ thick. Boil until almost cooked, then set aside to drain. In the same pot, melt butter on medium heat. Add the onion and saute until tender and clear. Sprinkle the flour in and whisk together. Slowly add the warm milk, stirring constantly with your whisk until the mixture thickens. Add in the salt and pepper and if you're using cheese, go ahead and add 1/2 cup here. Pour a small amount of the sauce in the casserole dish. Top with half the potatoes, add the remaining sauce, followed by the remaining sauce. If you'd like, add cheese on top. Brake for 30 minutes or until golden brown.
Scalloped Sweet Potato Recipe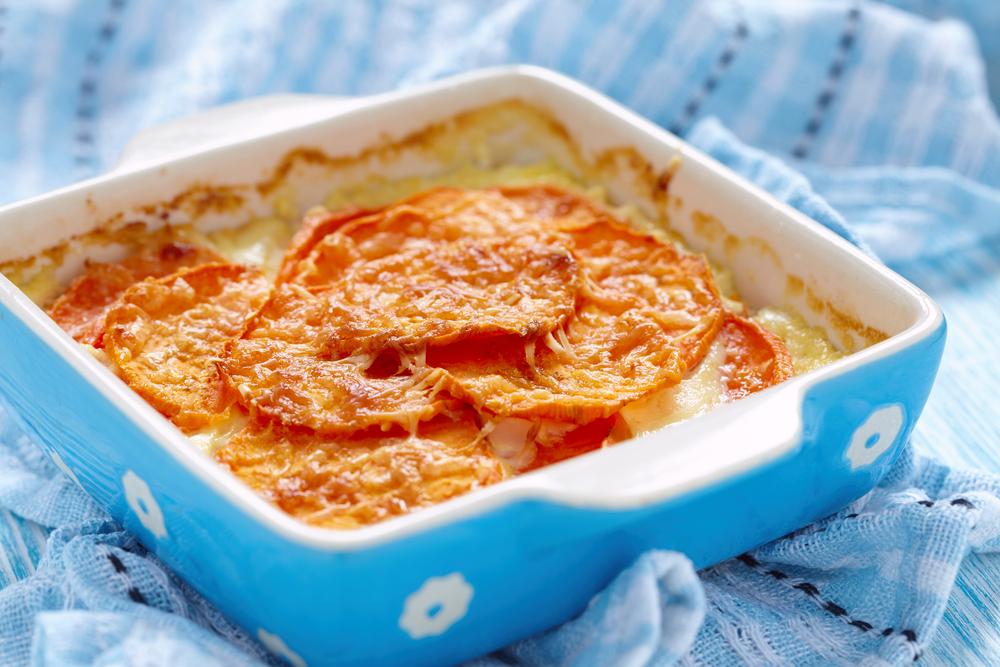 Ingredients
2 Sweet Potatoes, sliced thing
1/3 c. maple syrup
1/3 c. butter
1/2 tsp. dried rosemary
1/4 tsp cayenne pepper
1/2 tsp salt
1/4 tsp pepper
Process: Preheat your oven to 425F. In a 9×13 casserole dish that has been sprayed with non-stick cooking spray, layer your sweet potatoes. In a small sauce pan, melt the maple syrup, butter, rosemary, cayenne pepper, salt, and pepper. Whisk until well mixed and melted. Pour over sweet potatoes and toss to make sure they are thoroughly coated. Cover with foil and back for 30 minutes. Remove foil and broil for 5 minutes to brown the top. If you're craving something extra sweet, toss some marshmallows on top!
And there you have it! Scalloped potatoes three ways: cheesy, classic, and sweet. So the next time you're in need of something to warm a belly or fill out a menu, try one of these scrumptious scalloped potato recipes!
Happy Baking!
---
---